Kentucky Bluegrass to Battlefields
Published on
We spent Saturday evening about two hours west of Morgantown, WV in a little place called Ripley, WV. It was a sort of halfway point between my girlfriend's next destination and my own, so it made sense to spend the night there. The best part of it was just getting to do some riding on a clear evening; I'd almost forgotten what it's like to travel without oppressive clouds and rain hanging over my head.

We got the chance to check in and head out for an evening ride through the surrounding countryside. The scenery was nice, the light was good and the temperature was right in the comfort zone. Unfortunately, we were in The Country so of course all the critters were out too. The first time I saw a deer, it was almost a novelty as it munched nonchalantly at the foliage by the side of the road. By the fourth time, I was officially paranoid. There's really no two things about it: deer + motorcycle = dead rider(s). We cut it short and I made a mental note to avoid sunset rides in deep deer country like the plague.

Sunday morning I began my ride into eastern Kentucky under, again, constant threat from thunderstorms. The radar looked particularly ominous so I battened the hatches and decked out in my rain gear at the first sign of a drizzle. This time, though, the rain held off and by the time I stopped in Lexington, KY around midday, the thermometer read 94 degrees. I think you can imagine what it is like wearing a rain suit atop a leather jacket and jeans. With the sun finally beginning to poke through, I peeled off the rain gear and headed south into Bluegrass territory.

I'm sort of keeping a running list of rides that I'll need to redo at some future date. Heading south from Lexington on 25 (and 75) was one of those rides. Tucked in the smooth rolls of the Appalachian foothills is the cradle of horse racing. Lexington is either a very large town or a small city, depending how you look at it, and horse country is somehow both its suburbs and the lifeblood of its favorite pastime. I passed one black fenced farm after another and kept feathering my hand on the brake looking for a place to stop and take pictures. But the shoulder was never quite smooth enough and next farm along always looked just a bit more picturesque until eventually I realized with disappointment that I'd passed into another area of the countryside.

That's not to say that the south of Lexington wasn't scenic; it's just a different kind of beauty. I stopped off a couple of times along the way, including at one of many local civil war battlefields.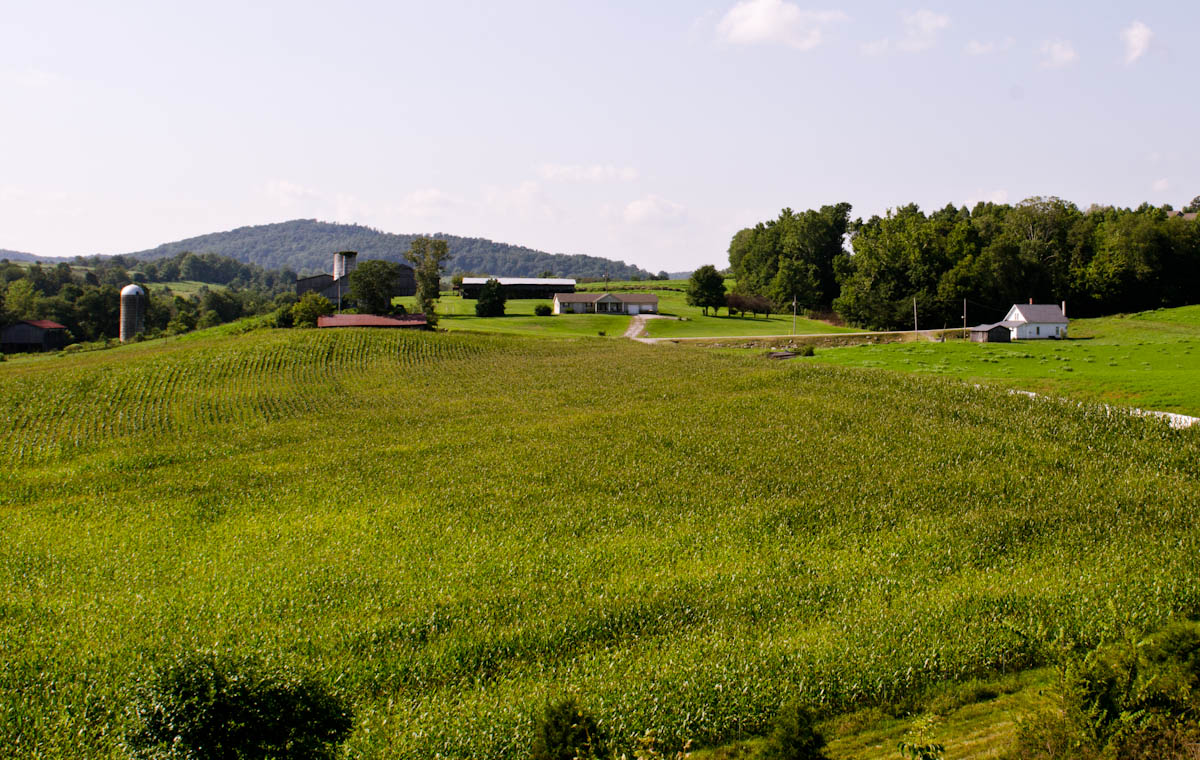 From I-75 I hooked west onto the Cumberland Parkway and its local service road, rt 80. By this point, my iPhone charger had corroded away from the rain and the phone itself was nearly useless so I had to rely on the good old fashioned Rand McNally maps to get me to Glasgow. That led to a 20 mile detour back the way I came along a rural farm road but the scenery was good, the temperature was falling, and I made it into my uncle's house in Glasgow as the sun began to set.