California Bound
Published on
I first rode through California on my 2010 trip to explore the Pacific coast from San Diego to Seattle. This time it felt a lot different. I guess knowing that I'll be moving there in a couple of months really shifted my perspective from just being an explorer to sort of taking ownership of the countryside. It went from "that's really beautiful, I need a picture" to "I'm definitely hiking that, when can I make that happen..?"

The ride into the Sierra Nevada Mountains began in Reno and looped south on 395 through Carson City. Where everything east of Reno was pretty much desert, heading southwest almost immediately revealed a much greener countryside. I was glad to finally get into the Sierras if only to avoid all the casinos, which were absolutely pervasive along the road from Reno to that point.

Two things I learned about the Sierras: they're surprisingly beautiful and they're surprisingly long. The mountains heading into Tahoe are simply breathtaking, not because of their size like the Tetons, but rather their attractive blend of dense forests, alpine lakes, and fields of rounded boulders.

I took route 50 into Lake Tahoe and, despite the annoyance of dealing with stoplights every 100 feet, I was enchanted with the beauty of the area. It's like everybody's perfect vision of a summer lake home -- pine scented woods, quaint little towns, and the most beautiful lake I've ever seen.

Tahoe looks like a cross between the clear teal waters of the Caribbean and the quiet depths of the Pacific. The lake, which reaches a depth of over 1600 feet, also has an astonishing 67 feet of visibility. It's tucked away in the mountains like a gem.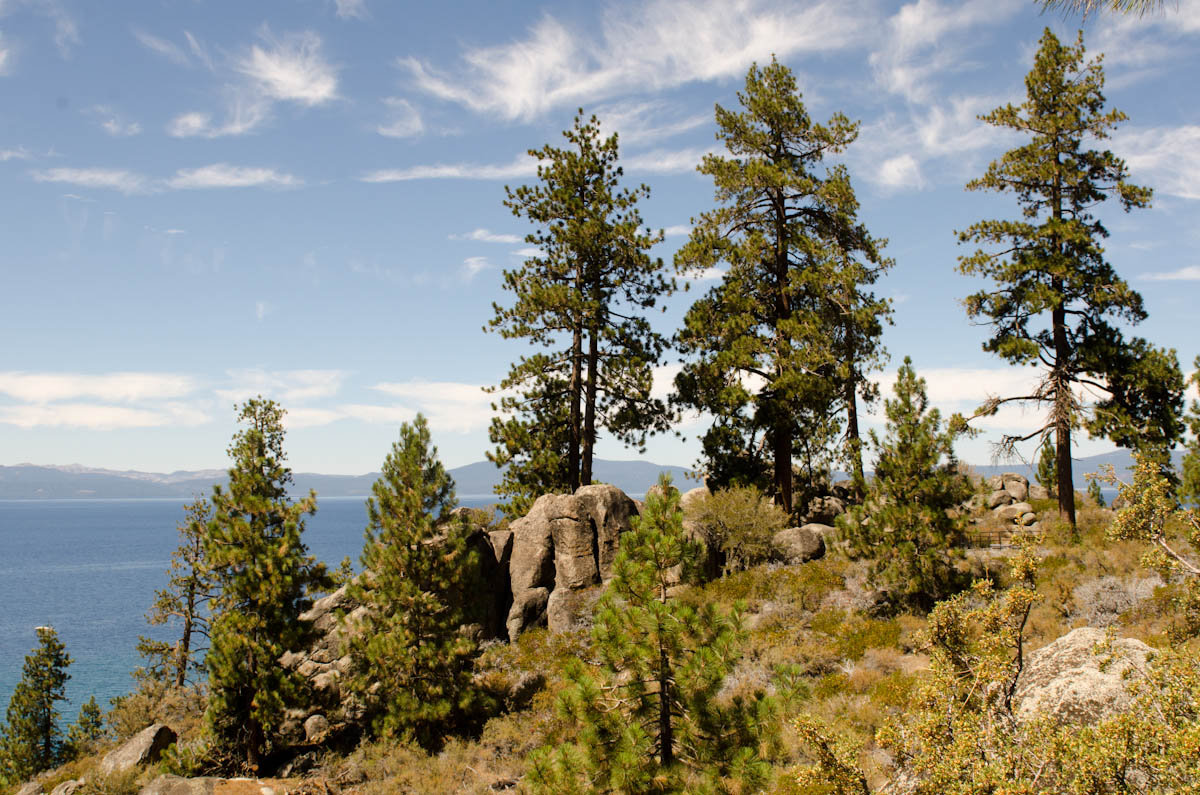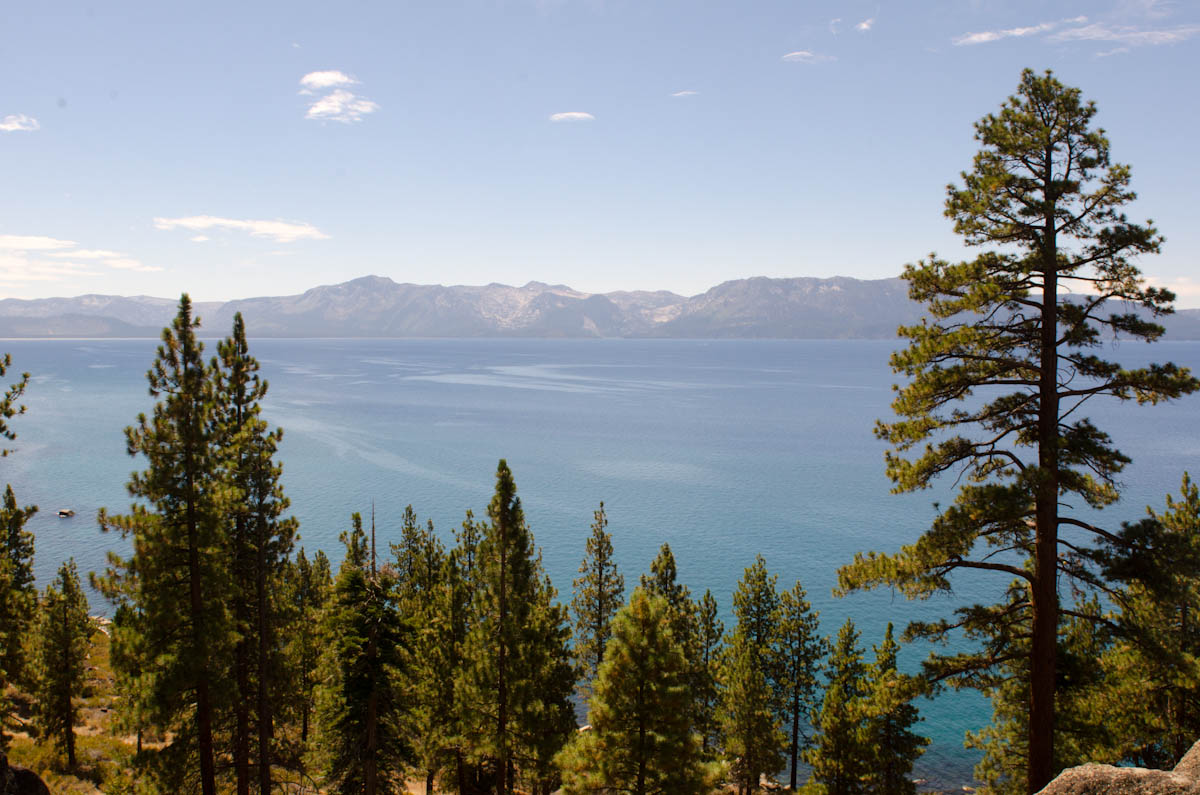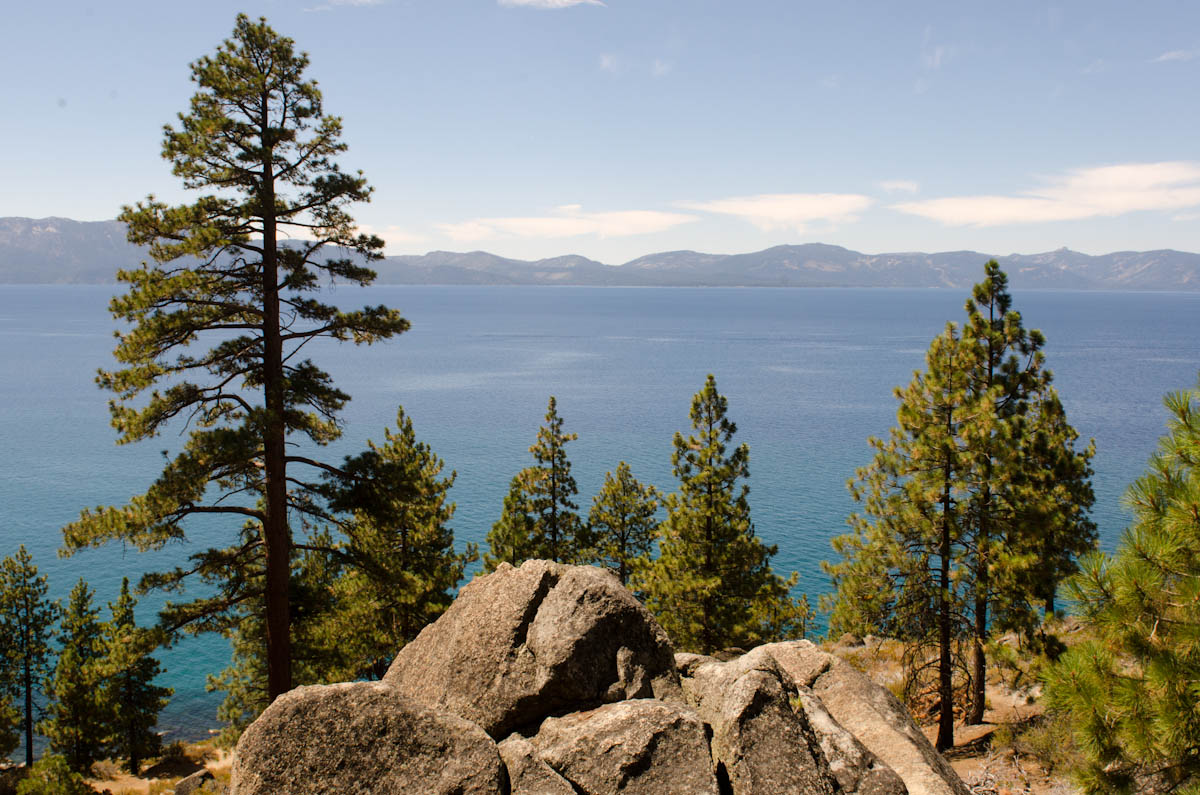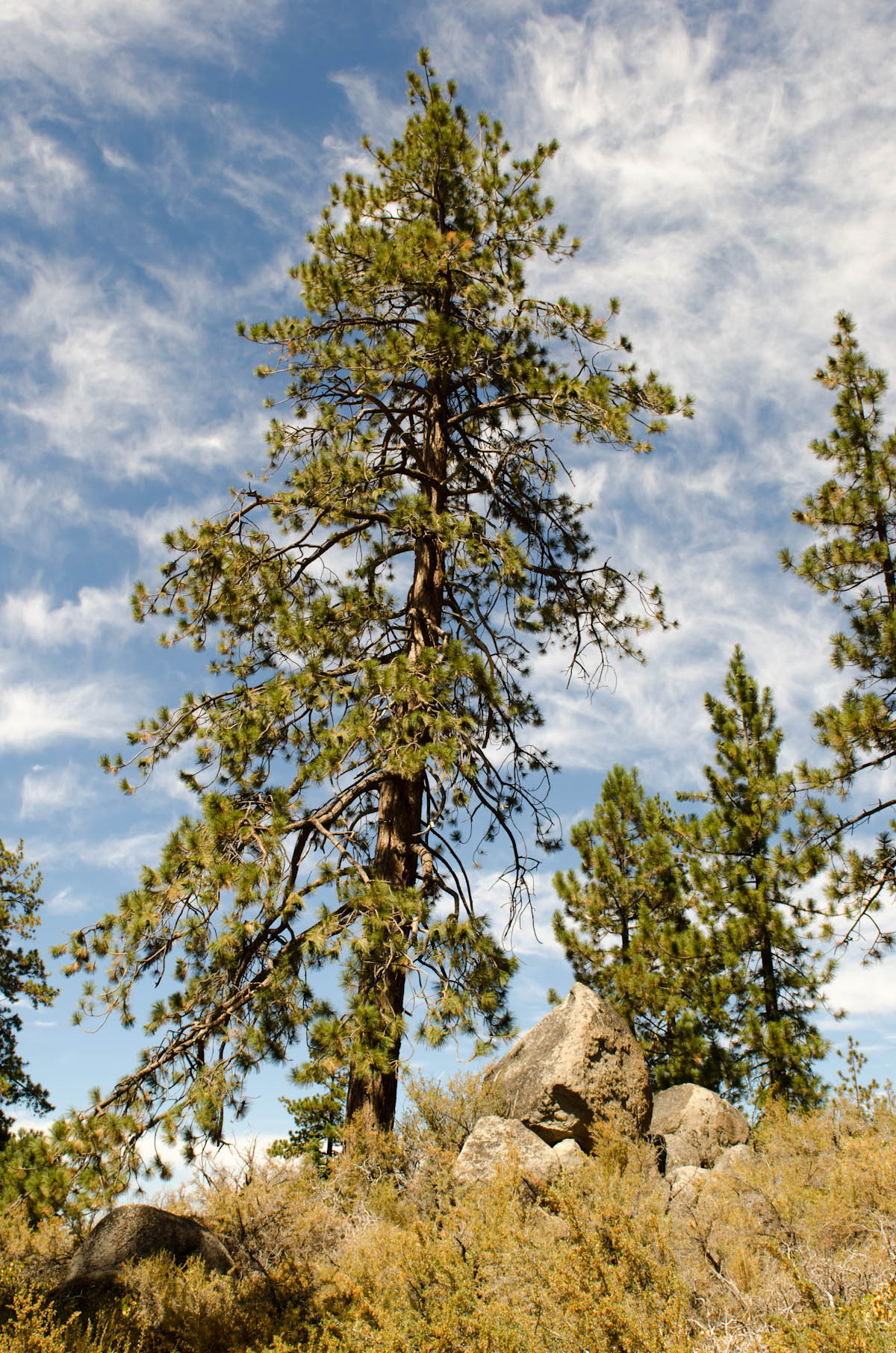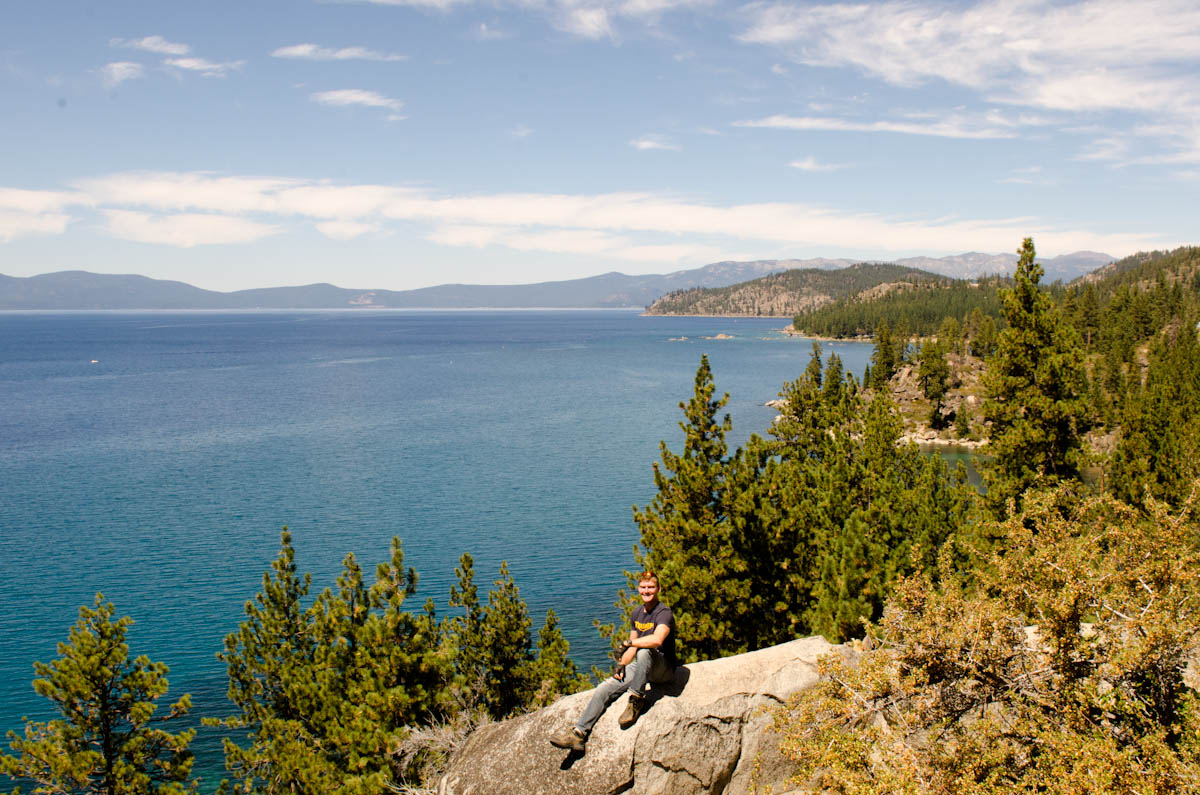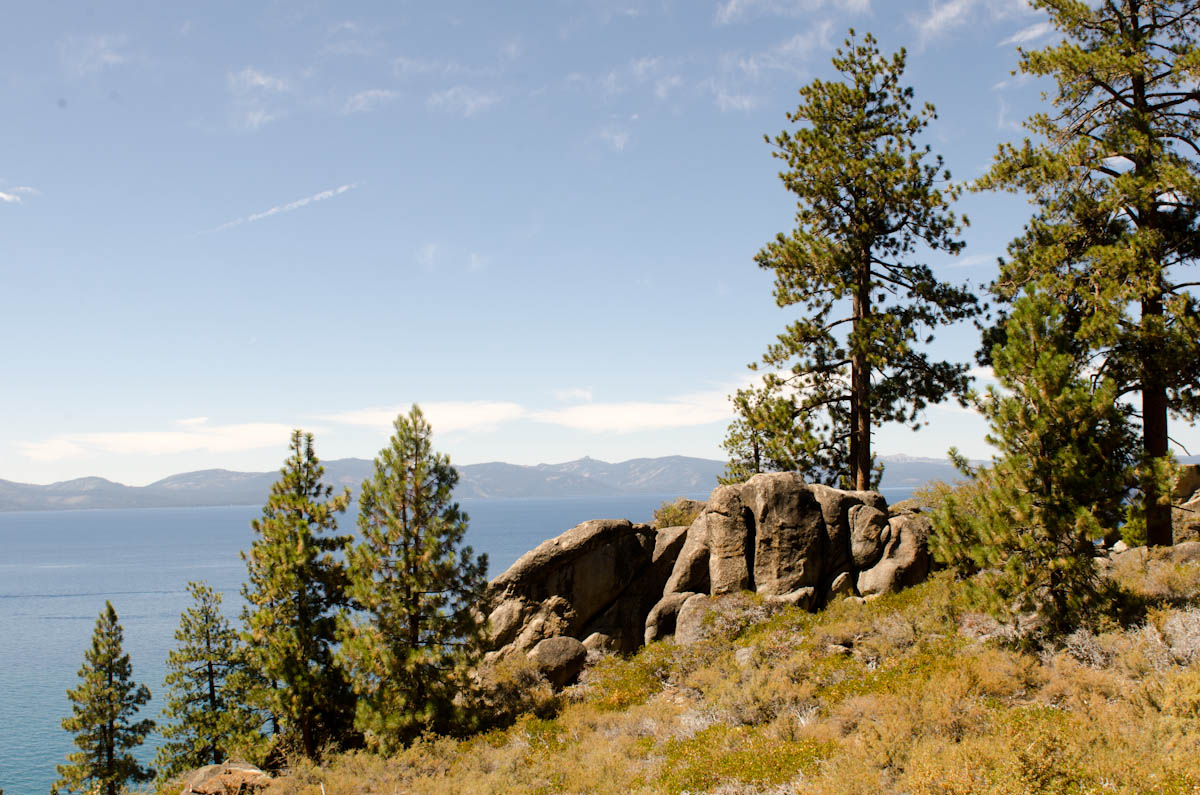 There's no question that I'll be back to Tahoe. I'll just need to acquire a helicopter first to make the trek from San Francisco.

West of Tahoe, the mountains kept offering grand views, quiet lakes, and cool forests. The only downside to it all were the gas prices, which skyrocketed from what I'd seen in Nevada. I kept looking for cheaper gas, thinking it would come on the other side of the mountains. Unfortunately, the mountains lasted a lot longer than my tank did. I spluttered to a stop after milking the hills for 179.3 miles (not even a new record), and not far from another grand vista: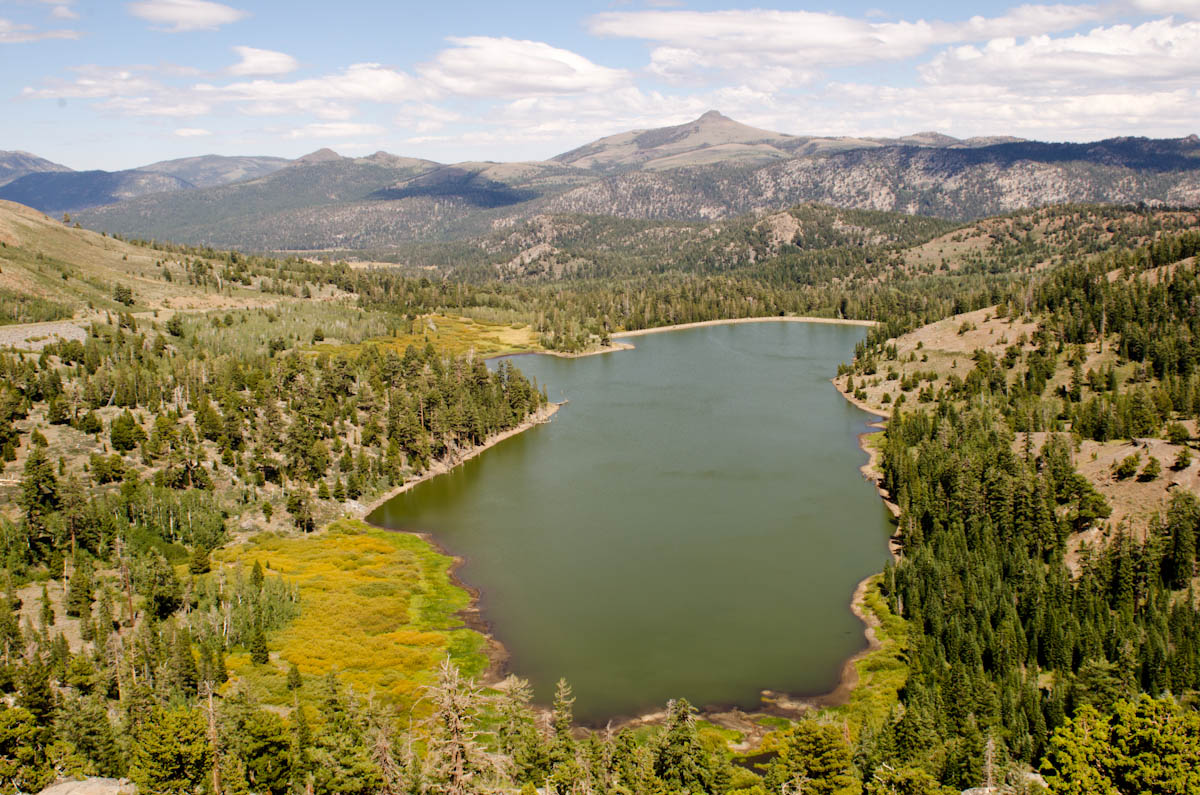 I dug into my emergency stash of petrol and made it to the next station just for the opportunity to pay for the most expensive gas in the mountains. I could only grimace as prices kept dropping during the long descent towards Lodi, CA, where we were staying with my girlfriend's niece.

Gas problems aside, it was a pretty relaxing ride: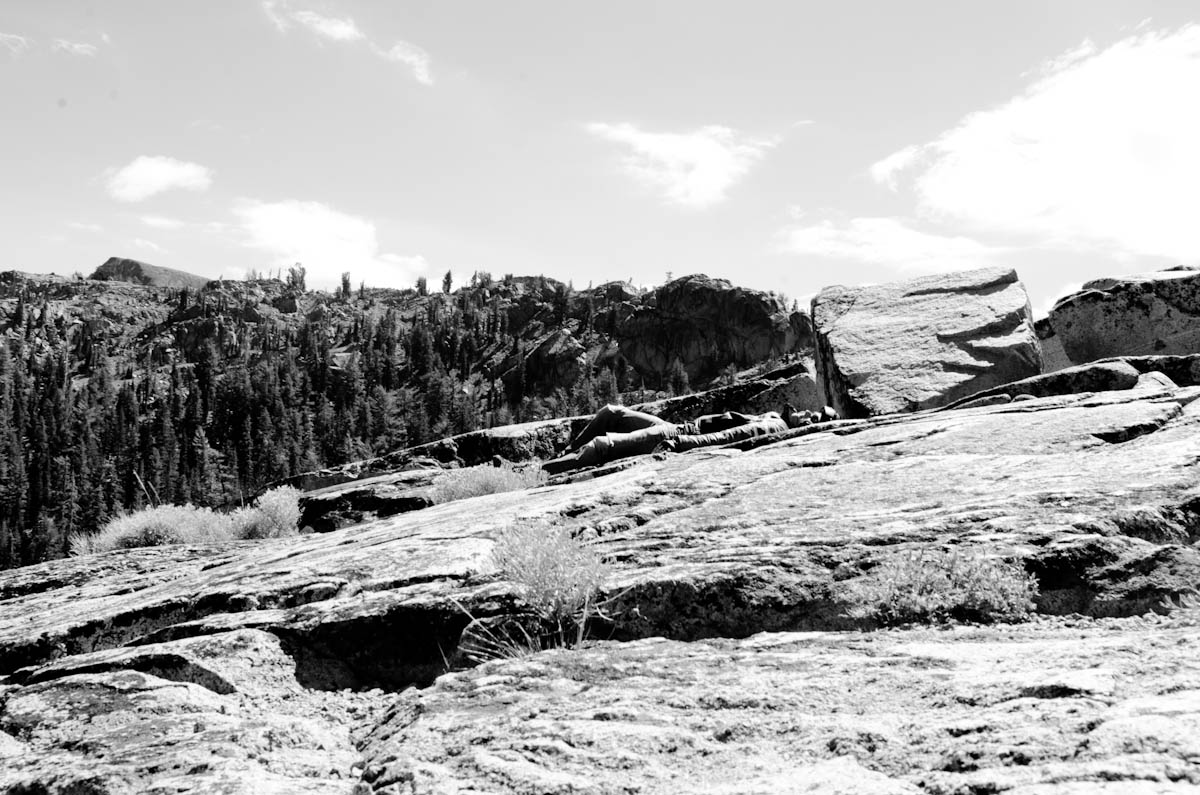 Eastern California in the Sierra Foothills is full of picture-perfect soft yellow hills dotted with neat round little trees that seem deliberately placed for maximum viewing pleasure. The region is full of farms and ranches of all shapes and sizes and Lodi is smack in the middle of it.

We stayed just one night in Lodi because we were eager to push onward to the Bay Area, where we'd be staying with my step brother and his wife in Oakland. I wish I could say great things about the ride from Lodi to Oakland but... well, I suppose the wind mills outside of Livermore were pretty enough. Otherwise, it was too much a "point-A-to-point-B" ride. California drivers are terrible enough to make me constantly on edge on the freeway so I couldn't really relax and get in the zone like I can in the middle of nowhere. When I finally got into Oakland I was more than ready to take a break from riding so, since it was still early, my girlfriend and I decided to drive in to San Francisco and go see the city that we'd soon be calling home.